School project Mukarangye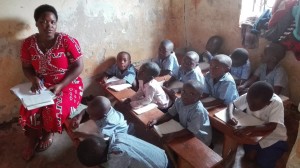 The school "Mukarangye", located in Kabale town, southwestern Uganda, was founded in 2010 by pastor/teacher Wycliff and his wife Gilian. They are originally from Uganda but since a few years back they live in Sweden. Wycliff wanted to do something for the children and started a preschool in his old hometown. When three years had passed they expanded preschool with regular classes, with permission from the authorities in Uganda.
The purpose of the school is to support and educate village children and give them better opportunities in life. When school started they had twenty-five students and two teachers. Over the years, the school has grown and now has 86 students and five teachers, plus two additional teachers.
The teachers are qualified and they are good at teaching kids. They have a permit to run the school to the 7th standard, but Wycliff and Gilian´s desire is to expand the school even further and provide education up to twelfth grade. In addition to teaching so they also give the children a simple lunch each day.
To run the school financially they get the support and help of parents and neighbors, but it is not enough. The majority of the children come from very poor families who are unable to pay school fees.