Home of Love
Manacapuru is a city along the Amazon River. By car, about one hour drive from Manaus, in the heart of the Amazon. Manacapuru has about 85 000 inhabitants. Many of the people living here have moved in from different villages in the jungle with a dream and hope for an easier life. But it is not easy to get a job in the city and life often gets more difficult than it was in the remote villages.
Many of these people end up in an area called Quari, located below a steep slope in the outskirt of the city. Next to the steps down to this area is a lot of garbage; it has become something of a dump. The families living here are very poor and there are many problems.
Pastor Jesse, who works in one of the churches in Manacapuru, has a huge love for the children who live in Quari. He is responsible for the "Fundação Lar do Amor" which means "Home of Love Foundation"
For 4 years they received money from the authorities to give soup to the children every day but in the beginning of 2009 the authorities took away the support.
The "Home of Love" house was in a very bad condition, it was more or less falling apart. When the money stopped coming from the authorities, the church was unable to raise money to cover the costs and had to stop giving out soup.
Barn i Nöd received an emergency call in February 2009 from Gloria Santos, who is the founder of Ray of Hope in the Amazon. Could Barn i Nöd help by giving money for the soup?
For many of these children in Manacapuru this soup was all they had to eat.  Barn i Nöd decided to support this project and provide children with soup every day.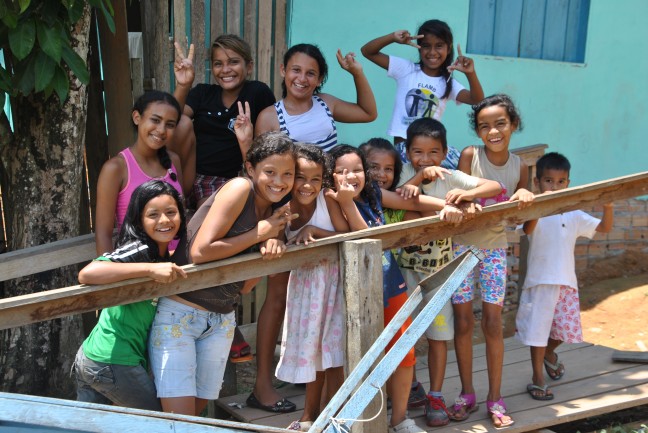 In 2010 Barn i Nöd built a new house for "Fundação Lar do Amor" after taking down the old house. In January 2011 everything was ready for inauguration of the fine new premises.
There are 100 children enrolled in this project, all who come and get food but also extra help with homework and special supported education. In the evenings, the new centre provides teaching to 30 adults, learning how to read and write.