History
Barn i Nöd was started in 1971 by pastor and author Wiktor Norin.  Pastor Norin travelled thru India and saw the great poverty and needs of the children there.  His travels were the beginning of the foundation Barn i Nöd.
The magazine 'Barn i Nöd' was published with articles about children in need. As people read the magazine they also started to send money for the different projects.
The projects started to grow in size and new projects came about in Brazil, India and Kenya.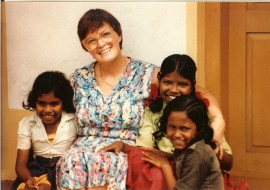 The vision to be able to help children get a better life became a reality and today Barn i Nöd helps 17 different projects in 7 countries.
In these photos: Victor and Ingegerd Norin.