Rangala Baby Home
The staff at Rangala Baby Home shower affectionate help and care on the small children. Many of the children are HIV-infected, but with the correct medicine right from the start, around 30% of the children can grow up and lead a healthy life.
Rangala Baby Home is owned by the Catholic Church. In 1939, Franciscan sisters from England started a centre to distribute medicine. They taught the mothers how to care for their children so that they could stay healthy.  The main work was to take care of the sick children and at the same time offer education about good nutrition.
In 1940, the centre's aim changed due to a large increase in the number of children without mothers. A large number of women died during childbirth. It was then that the Franciscan sisters from St Joseph (a local congregation) opened a separate centre for care and help for infants. They even educated the mothers who survived the childbirth. It was all about care and development of the children.
The children found on the roadsides or in the culverts landed in the baby home.  Some were abandoned or neglected by the relatives who could not manage to take care of the children. The same trend has continued.
At Rangala Baby Home, the newly born children get the best medical care. There are around 40 children who live at the baby home.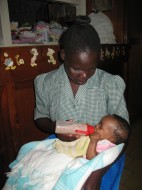 The mothers of most of the children at the baby home died during childbirth or soon after. The families come to the baby home and request them to take care of the child because they are not in a position to do so when the mother is not there. The area is poverty-stricken and many lack the capacity to regularly provide food on the dining table for their children.
The children can live at Rangala Baby Home until they are 4-5 years old and later they are sent to their families or relatives. The staff continues to visit them on a regular basis even after the children have moved out of Rangala Baby Home. They check that the children continue to develop in a good manner and adjust in their families. They even help with food, clothes, medicine and education as much as they possibly can with their limited resources.
Rangala Baby Home is situated close to Lake Victoria. Around 20 years ago, Barn i Nöd, with help from SIDA, paid for the renovation of the home when it was totally destroyed by termites. Since then, Barn i Nöd supports the home on a regular basis.